ACOUSTIC BLENDER is an alternative folk group consisting of Hope Wesley Harrison, Justin Solonynka, and David & Jenny Heitler-Klevans (otherwise known as Two of a Kind). All the members of Acoustic Blender sing, and their intricate vocal harmonies and arrangements are the centerpiece of the group. Instrumentation is varied, including guitars, piano, cajon, djembe, melodica, trombone, whistles, ukulele, and various hand percussion. Acoustic Blender's repertoire is eclectic, including folk, rock, classical, jazz, reggae, country and other genres, and with themes ranging from the personal to the political, the ridiculous to the sublime. Along with numerous originals, the group covers songs by diverse artists such as The Beatles, They Might Be Giants, Dido, Bob Dylan and Talking Heads. They released a CD entitled "Crazy Whirled" in 2008, and contributed 2 tracks to Two of a Kind's multiple award-winning 2013 CD "Sing Me Your Story", 6 tracks to Two of a Kind's 2018 CD "Lead With Love, and 2 tracks to Justin Solonynka's solo instrumental 2021 CD "Long Time No See".
Hope Wesley Harrison – guitar, bass, voice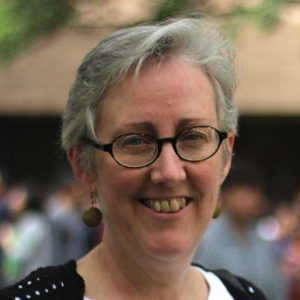 Hope hears harmonies everywhere, from the rhythms of written language to the wind chimes on her porch – which may explain why her arrangements are hard to learn but fun to sing! Hope sings and plays bass and guitar with Acoustic Blender, nurtures her classical roots in Lehigh University's Choral Union, and sometimes explores alternative pop with Justin. She lives in Allentown, PA with the best husband on the planet.
---
David Heitler-Klevans – guitar, bass, voice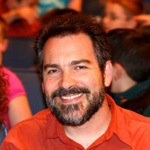 David likes to sing, play, write, arrange, record and listen to music. David has a degree in music composition from Oberlin Conservatory of Music. He taught music at various schools and privately before quitting his day-jobs to do music full-time. David mostly plays guitar and bass, and sometimes trumpet and percussion. He also brings his political commitment and pun-filled humor to the group.
---
Jenny Heitler-Klevans – djembe, percussion, voice
Jenny has been singing and dancing all her life. David and Jenny work together as Two of a Kind, performing and recording for children and families. Jenny teaches pre-school music and does artist residencies in songwriting at elementary and middle schools with David. Prior to becoming a musician, Jenny worked in family planning and has a masters degree in Public Health.
---
Justin Solonynka – piano, whistles/melodica, voice
Justin lives outside Philadelphia, PA. He is a teacher of math, music, and theater, and plays numerous instruments. He has recorded five solo albums and two others with the New South Wales Machine, as well as a couple of live archival sessions with Hope. He has starred in and scored a movie, and journeyed across the continent and back (twice) in search of himself and other interesting people.
---